The Winemaker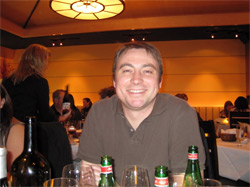 Jacob Toft is a self-made man. He supported himself in Paso Robles while going to Cal Poly, working in several restaurants, apprenticing at wineries and when he needed another job, went to work for Ed Sauret at the Wine Vault in 1998. Working both for Ed and Cris Cherry of Villa Creek restaurant was a revelation for Jake. Ed and Cris liked wines of all prices, colors, regions and flavors. Jake's palate grew accordingly taking as he did every opportunity to taste something new and different.
Over the ensuing years, Jake got his degree from Cal Poly San Luis Obispo with a major in Philosophy (not really as much of a stretch to winemaking as one might think) and a minor in the fledgling Viticulture and Enology Department. He also served time in various capacities at J. Lohr, Dover Canyon, Garretson, and most recently L'Aventure.
The first vintage of Jacob Toft wines was 2000 when the wines were made at Garretson. He has just finished bottling his 2016 wines.
Jake has earned a reputation for being a meticulous, careful (but not too cautious) and knowledgeable winemaker. His standards of winemaking cleanliness and procedures are the stuff of Paso winemaking legend. He is a firm believer that good clean fruit does all the work and that a good winemaker's task is to "stay out its way" as much as possible. In many years, the wines almost make themselves, but not completely. Jake knows how much and when to be involved in the process.
Recently he was named one of the rising stars of Paso Robles winemaking by the New York Times.
He resides in Cayucos with his lovely bride Kelly. His grandparents' historical Paso Robles home is pictured on his label. His website is www.jacobtoft.com.